Change for Charities
Debit Card Program
Make a difference in your community by automatically "rounding up" each debit card transaction and donating those funds to local charities.
How it works
Every time you use your Empower CU Debit Card, the transaction is rounded up to the nearest dollar

At the end of the day, the increased amount from each transaction is totaled and posted as a single transfer from your debit card account into the designated Change for Charities Account(s)
Example
Item
Purchased Amount

—–

Rounded To

—–

Transferred Amount

—–

Coffee
$1.85
$2.00
$0.15
Sandwich
$5.33
$6.00
$0.67
Groceries
$33.19
$34.00
$0.81
Total Daily Transfer Amount

—–



$1.63
Funds from the Change for Charities account will be withdrawn and donated on December 1.
Charities
You can choose to donate your rounded-up funds to one or both charities. If you choose both, the amount donated will be evenly divided.

HAWS: The Humane Animal Welfare Society of Waukesha County (HAWS) is a non-profit organization established in 1965 that assists 8,000 animals and welcomes more than 35,000 human visitors each year. As an open admission shelter, they accept animals regardless of age, health, temperament or breed. This full-service humane society offers programs and services that promote responsible pet ownership, preventing animal abuse and neglect in our community and beyond.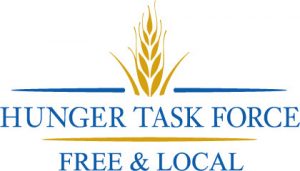 Hunger Task Force:  Hunger Task Force ensures a healthy and nutritious supply of food within a network of nearly 200 access points for hungry children, families, and seniors in Milwaukee and the surrounding area. Hunger Task Force combines government commodities, food collected from local food drives, purchased emergency food, and fresh fruits and vegetables from the Hunger Task Force Farm to supply this network with breakfasts, lunches, and dinners based on family household size and dietary needs. Families can receive emergency food with dignity, on the day they need it and in the neighborhood where they live.
What You Need to Enroll
Empower CU Debit Card

Checking Account

Share (Savings) Account

Completed Enrollment Form
How to Enroll in Debit Card Roundup
Simply fill out an enrollment form at one of our branches or call a Member Service Representative at 414-988-6600 to have one mailed to you. You will have to complete the enrollment form.
Read our terms and conditions or email us at with questions.
If you wish to un-enroll
Please complete the Cancellation Form and return it to a member services representative.