Direct Deposit/Automatic Payment
It is very easy to set up either Direct Deposit or Automatic payment to or from your account. You need to provide the following information to the financial institution or merchant providing you with direct deposit or withdrawal.
(A) Account Number: Your 10 digit account number starting with 01
(B) ABA Routing Number: 275071246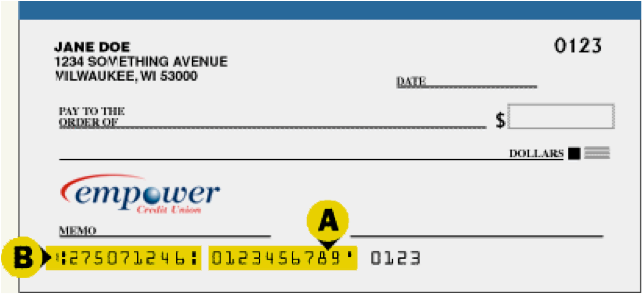 Wire Transfers
Empower also has the availability to send and receive wire transfer for our members. For all wires that are incoming for deposit to an account at Empower or for application to a loan, please wire funds following these instructions.
Wire to:
ABA# 275082866
Corporate Central Credit Union
6262 S Lowell Place
Muskego, WI 53150
---
Beneficiary Financial (Further Credit)
Empower Credit Union
10635 W Greenfield Avenue
West Allis, WI 53214-2428
Account #: 275071246
---
Final Credit To:
Member's Name
Account number to be credited
---
Fax No.: 414-988-6699
For us to send a wire out for you we will need the wiring instructions for that financial institution which should include:
Financial Institution Name, Routing Number, Account Number and your account number.
For assistance with wire transfers please contact us at 414-988-6600.