Mobile Deposit
It's FREE and very easy to do. Simply choose Mobile Deposit in our Mobile Banking App on your smart phone to take a photo of your check and upload it. Eligibility for Mobile Deposit: You must be a member for 90 days, at least 14 years of age and have had at least one minimum deposit of $100 within 30 days.
Deposit checks from your smartphone
It's as easy as taking a photo on your phone
Deposit checks around-the-clock
Receive funds faster than by traditional deposit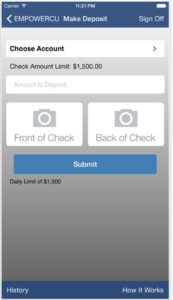 Download the Empower Mobile App today!
The Empower Mobile App is available for Apple and Android devices through the iTunes Store and Google Play. Members need to be signed-up for Online Banking prior to logging into the App.
Enter your Online Banking username and password. If you are not currently enrolled in Online Banking, sign-up here.
After entering your Online Banking username and password, a message will appear stating that a PIN is required and has been sent to the primary account holder's e-mail address that is on file with the credit union.
Retrieve the PIN from the e-mail address on file to complete your login.
Please see click on the icon below to download the Empower Mobile app today!